NOTHING FOR SALE, I don't own most of this stuff anyway.

sailor saturn 2003 magnet
Okay, this Saturn Magnet is available as a gashapon( capsule figure) Made in Japan for 2003. You can buy it here in the US, mostly on online shops though. Look at my shop links page on my homepage to see if you can find one.However, this item is sold in a set with the other sailors, there are some sites I've seen that sell them seperatly. As far as I know, this is the first Sailor Saturn Magnet ever made.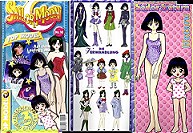 Sailor Saturn and Pluto paper Doll book.
Printed in German, Probably made in 1999. This includes all of Sailor Saturn's fasions, and forms.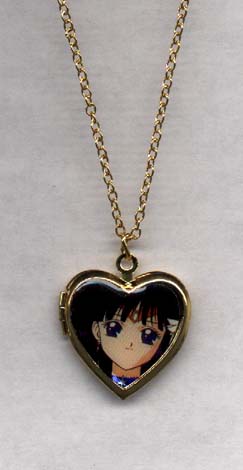 Sailor Saturn Locket.
I wish I realllllllllly had this. I've seen this on ebay probably once. I have absolutley no information this. Distributed in Japan.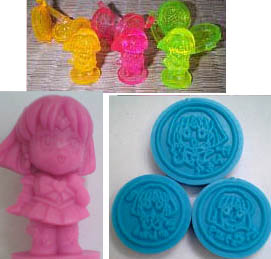 Super Sailor Saturn Stamper
These stamps are of Super Sailor Saturn, and apparently they come in different colors. I'm guessing these came out during the 5th season of Sailor Moon in japan. I think you can choose different stamp tops to the stamper, I'm guesing they have different designs on them.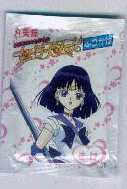 SAILOR SATURN RICE SEASONING PACKET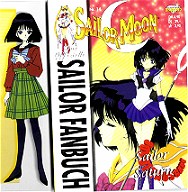 Daz Offizielle Sailor Fanbuch: Sailor Saturn
Printed in German, and distributed in germany. This is the only Sailor Saturn fan Book available. There was never one made in Japan. Since Germany gets Sailor Moon, They have Merchandise as well. This is book # 14 of a series of Sailor Moon books.Made by Diamond Publishing, in 1999.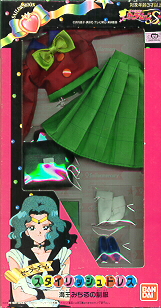 Even though this is a Sailor Neptune/Michiru item, this doll outfit could also be a Sailor Saturn/Hotaru doll outfit. This item came out during Sailor Moon S, it's a Mugen High school uniform outfit for your Neptune doll. But you can also use it for your Sailor Saturn doll, since Hotaru Tomoe goes to the same school and wears the same outfit. The only difference is that Hotaru wears navy tights not white socks. Plus the Saturn dolls are shorter than Neptune and other moon dolls, so this outfit would be too big for her to wear.
Anyway this outfit comes with a green pleated skirt, red blouse, white socks, navy shoes, school bag, and looks like it comes with a school book (I'm not sure what that last item is) You can also buy Haruka's school Mugen High uniform , which is the male uniform. Since Haruka is male at "heart" she wears the male uniform.
Click here to see miscellaneous Saturn merchandise