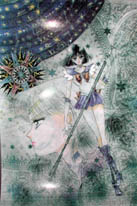 How do I go about to explain this rare poster. Well first off, this may not be an official item. The poster is a laminated poster of Sailor Saturn in manga form. See the glares on the poster, it's real shiny. This is a Taiwan import, other reprints of this may have first started in Korea in 1999-2000. Other versions may be available, and certainly there are similiar prints like this with other sailor moon characters and other anime.
Hotaru Tomoe Poster drawn by Ryutaru Hino
Made in July 2000, and drawn by that huge japanese Hotaru fan, Ryutaru Hino. I don't see how this is an official item because it's so incredibly rare. Well, if this is an official item, then this is the only solo poster of Hotaru.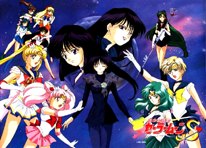 Here it is, the beautiful rare pull out poster no one knew about. It is about 16 inches long and 12 inches high. The poster is from the Sailor Moon S Album II book, A picture of the book is shown in the bottom left corner of this picture. Made in Japan, but I believe there are other reprints of this book made in korea and china. I love this poster despite the page creases, (which each pull-out poster will have) This poster is the only one I know that has Sailor Saturn, Hotaru, and Mistress 9 all together in the same poster, and are in the center focus of the picture too.Made by Nakayoshi Media books, in 1997.


HERE IT IS, THE POSTER I ALMOST PAID $90 TO GET. THIS POSTER IS SUPER RARE AND PROBABLY THE FIRST POSTER EVER MADE WITH JUST SAILOR SATURN ON IT. IT'S MADE BY BANPRESTO AND I THINK IT WAS MADE TO PROMOTE THE SAILOR SATURN UFO CATCHER DOLLS MADE DURING SAILOR MOON S( 1994-1995)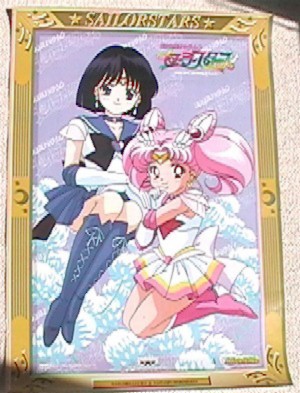 This is a special poster you don't see often, made by Banpresto for the 1997-1998 season of Sailor Moon, note that Sailor Saturn has a different sailor uniform in the the poster. Her and the other Outer senshi get upgraded outfits in the last season in Sailor Moon. This is kind of a rare poster, it may sell for $30 or so. There are other "buddy" posters similiar to this one, with other sailors in it.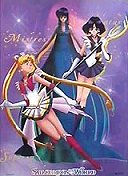 This is a new realeased Sailor Moon World poster, with Sailor Saturn and Mistress 9. That writing at the bottom of the poster does not exist on the actual poster. I'll see if I can find a better image. Anyway, this poster was made in 2002, Banpresto, Japan. This poster is currently not as rare as others, and is not as expensive. Due to the recent renewed interest of Sailor Moon in Japan, lots of new merchandise has come out including this Poster. The Sailor Moon merchandise line since 1999 has been called Sailor Moon World. Not that there is a new Sailor Moon season or anything, it's just a new name to sell an old idea, brought by the sucess of Sailor Moon reruns, and live action musicals in Japan.
This Sailor Moon 1997 poster made for Sailor Moon Stars( the last season) is very large . The poster is quite thin too, so if your lucky enough to find this super rare poster be careful with it. That blue dot on the edge of the poster doesn't exist on the real one. Yet again I need to find a better picture.I think this is one of the better Sailor Saturn posters, it looks really nice, but Saturn looks a bit more stylized by the artist that actually looking like her anime counterpart in the show.

Yet another Sailor Stars 5th season poster, for the longest time this was a very common poster, and anyone could buy it. It was available as a poster or a huge wallscroll. This poster is great, but it has it's flaws, her boots arn't drawn correctly ( you'll notice this if you know exactly what her boots look like. Then there's Hotaru in the background, who looks like she wearing her school uniform from the 3rd season, but the colors are muted. It looks to me the artist, forgot that Hotaru doesn't wear that uniform at all in the 5th season, so he choose different colors for her clothes. I still like this poster however, and I'm guessing most diehard Saturn fans have this some where in thier room.