NOTHING FOR SALE, I don't own most of this stuff anyway.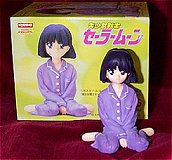 Hotaru Tomoe Pajamas Figure
This little figure is Hotaru in her jammies! This is a factory prepainted resin figure and fully asembled, Made in 2000. Japan. Scale 1/8?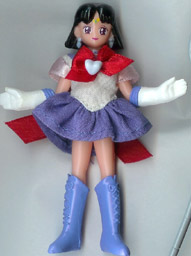 Super Sailor Saturn Princess Snap Omake figure
Sailor Saturn is in her super form, and is actually made shorter for this toy line. Because she is short. About 3.5 inches tall, made in 1996, Bandai, Japan. The figure comes w/ a glaive, stand and snap on boots and gloves. the outfit is removable, and the figure comes with a bag of minty candies. The figure isn't posable, only the head moves.
Mini Sailor Saturn Super Deformed Figure
I think it's about 2 inches tall, first came out in Japan in 1993, or 1994. It was Rereleased in America in 2000. It also came as a keychain, and a smaller keychain version about 1.5 inches tall. She is super cute in an all plastic figure, in her S version uniform.