I'M NOT SELLING, I don't own most of this stuff anyway.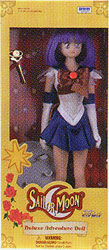 THIS IS A SAILOR SATURN PROTOTYPE DOLL THAT YOU CAN'T ACTUALLY BUY. I BELIEVE THAT ONLY A BUNCH OF THESE WERE PRODUCED. THERE ARE ACTUALLY DIFFERENT SAILOR SATURN PROTOTYPES THAT CAME OUT IN DIFFERENT YEARS. HOWEVER, I'M NO EXPERT ON THEM. I THINK SOME WERE MADE IN 2000 AND SOME MORE IN 2001-2002, BEFORE THE IRWIN TOY COMPANY DISSOLVED.I RECALL HEARING ABOUT A COLLECTOR ON THE INTERNET WHO ACTUALLY GOT HIS HAND ON ONE OF THESE PROTOTYPES. YOU CAN TELL IF IT IS A PROTOTYPE IF SHE HAS PURE VIOLET HAIR. SOME MAY HAVE A NOSE , SOME MAY HAVE NOT. THIS DOLL DOESN'T HAVE THE RIGHT BOOTS ON,AND HAS BIGGER EYES.

(from the Sailor Moon Specialty store) Now you see this doll never went on the market, so no one can possibly buy it. She obvoiusly has purple hair and is wearing her infamous black dress from the anime( where she first met chibi usa(rini)) This is made by Irwin, in Canada. I believe this photo was taken in 2000 or 1999.

Beauty Change Super Sailor Saturn Doll
This doll was made in 1996 for Sailor Stars.This Doll has felt bows and a violet skirt. She is about 8.5 inches tall and has black hair ( unlike the 1995 version, where she has brown hair.) This doll looks like the most accurate Saturn doll thus far. This doll has a longer skirt bow and a heart brooch for her Super form. Her brooch and bows are made of felt. Made by Bandai in Korea, Japan market only.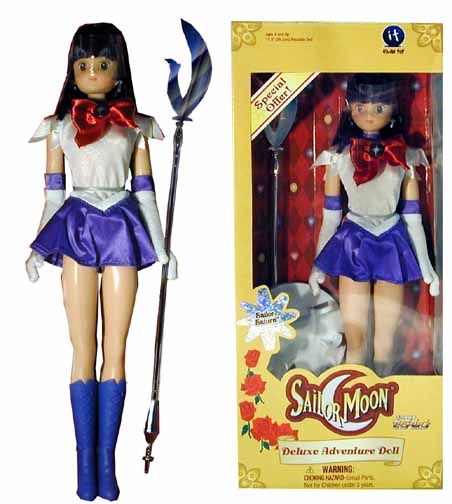 Sailor Saturn Deluxe Adventure Doll
Made by Irwin toy, and is about 11.5 inches tall. The biggest yet. Made in 2001, due to the recent new Sailor moon episodes on cable. This doll was only available in specialty shops, because it is only an exclusive offer. This doll is huge! It comes with the coolest shinyist glaive ever. It's very accurate, and it has purple highlights and detailed earings, which is the only doll to ever do that. Sold in Canada only, this doll was abruptly discontinued, due to disapointing sales by Irwin.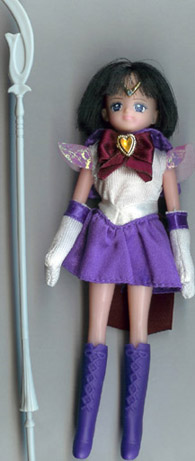 Dream Pocket Super Sailor Saturn doll
It's 6.5 inches tall, comes w/glaive. She comes with a carring case for her to travel in, and a card. And is very acurate. Correct boots and all. Made in 1996, Bandai, Japan

Excellent Sailor Teame Sailor Saturn doll
"Teame" should be "Team" but that's how it was spelled on the box. Anyway, this doll has strangely brown hair, comes w/ a glaive, card, and a stand. She has a shiny metalic uniform, shiny bows, dark purple boots, and gold earings. This doll is also less rare than the Beauty change doll, for some reason. 8.5 inches tall, made in Korea, not China , like most dolls are. Made in 1995, Bandai, Japan. This doll was apart of the Sailor Moon Super S doll merchandise. This is the first Sailor Saturn doll ever made, none was made for 1994, The Sailor Moon S Season, where Saturn first appears.
Sailor Saturn World mini doll
Made in 2002, Bandai Japan and is 6.5 inches tall.She is in her "S" form from the 3rd season. This looks similar to the dream pocket doll, a lot more prettier, the uniform is glitzier. This doll is from the Sailor Moon World doll series, and was released due to the sucess of the reruns of Sailor Moon in Japan and the Sera Myu Sailor Moon live action musicals.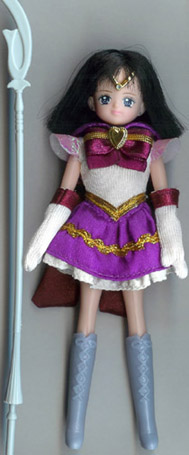 Sailor Moon Mini collection DX 2 dolls w/ Saturn
Made in 1999, Bandai, Japan and is 6.5 inches tall. Sailor Moon merchandise returns with Sailor moon World merchandise. A series of toys promoting the Sailor moon reruns and the musicals in Japan. This Saturn doll is the 2nd version of the once released dream pocket Saturn doll, but a lot different. This Saturn doll has a magenta skirt, exactly like the 1996 release of the dream pocket Pluto doll, and has a white skirt underneath. Lastley the back bow is more poofy than the last, and Saturn comes with a shiny pair of light blue boots. Saturn and the other outers( Neptune, Uranus, and Pluto) are in this set and can not be brought seperatly. The four Outers come in a box with a colorform playset.