nothing for sale, I don't own most of this stuff anyway.

I apologize for this picture, but it's the only one I can find. Anyway in 1999, a set of Sailor moon pins came out to promote the Sailor Moon musical. Saturn came in the set with other Sailor Moon pins. This pin looks a lot like the images that used to be featured on the japanese Sailor moon site:
http://sailormoon.channel.or.jp/index2.html
Saturn is Super Deformed and has beedy little eyes.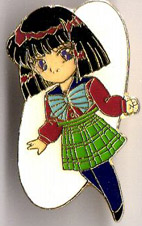 Here's the pin I've been looking for. It's Hotaru in her school uniform, this is probably the first Sailor Saturn pin ever made, and the only pin of Hotaru. I'm guessing in was made back when Sailor Moon S, the third season aired.

Isn't this pin just cute! It just came out too, July 2003. The pin is of Sailor Saturn in her first form in Sailor Moon S. I think this pin maybe the first Sailor Saturn Pin that features her glaive.

Super Sailor Saturn Capsule Pin
Came in a Capsule ball w/ a Sailor Pluto Pin. Both are in there Super form, the one where Saturn has a long bow in the back.

I suppose I should say something about this mystery Saturn pin. Well, it's of Super Sailor Saturn, and this pin may be from an actual picture. I'm going to guess this came out in 2000 or up to 2002
Super Sailor Saturn Puzzle Pin
This pin is shaped like a puzzle to connect to other Sailor Senshi puzzle pins to form a heart. Other pins that form the big heart pin is all the inners, outer, senshi, the sailor star lghts, and chibi moon. This was produced during the Sailor Stars season and is very rare to find.